The  Droga Architect in Residence aligns with the Foundation's vision that architecture is fundamental to Australian culture and to our cultural identify.  It centres on our commitment to advocacy for architecture and its value to Australian society.
The overarching goal of the residency program is to promote, support and communicate the value of architecture as design which benefits the Australian community, culture, economy and environment, now and into the future.
The Residency offers an opportunity for successful candidates to engage with the local architectural community via seminars and related events, which are relevant to their oeuvre, as hosted by the Foundation for the purposes of developing or extending a project in line with our goals for the residency.  It is expected that sucessful applicants will display a body of architectural work that emphasises a strong public and social benefit and which will be clearly communicated through their residency project submission.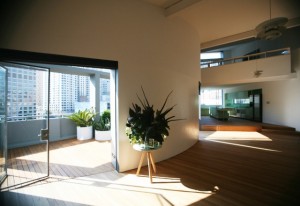 Successful applicants to the Droga Residency will be accommodated in a two bedroom, fully furnished apartment, which has been gifted for use as a residency by cultural philanthropist Daniel Droga as a cornerstone gift to the Institute's Foundation.
Winner of the Robin Boyd Award for Housing and the Wilkinson Award in 1998, the Durbach Block designed warehouse apartment  is located in a vibrant inner urban area, is within walking distance of Sydney's best restaurants, the CBD, and public transport is highly accessible.  It is also a short distance to many of Sydney's finest art and cultural venues, including the Sydney Opera House and magnificent harbor foreshore.
The residents will be hosted in Sydney for a period of 10-12 weeks.  The timing and duration of the residencyhas some flexibility and can be negotiated with the Institute.
The Residency is managed by the Australian Institute of Architects Foundation and supported by fundraising initiatives including donations by individual patrons.  Successful applicants will be offered free accommodation, a stipend, and return flights and be responsible for their own visa and travel insurance.