2018

Alexis Şanal

The 2018 Droga residency was awarded to an emerging Istanbul-based practitioner, Alexis Şanal. Her passion is exploring living culture and built environments that blend contemporary urban realm with timeless physical and natural contexts to create imaginative and meaningful experiences. Her residency proposal focussed on market contexts as public places of exchange within an Australian context. Alexis is co-founder of SANALarc, a knowledge-centric studio, focused on civil and civic architecture, research and city-design.


Photo: Jan Kopetzky
Photo: Magma Architecture

Photo: Torsten Seidel

July – October, 2017

Magma Architecture, Berlin

Participants: Martin Ostermann and designer Lena Kleinheinz.

Their Berlin-based practice, Magma Architecture, has earned international recognition in producing a number of innovative and award-winning designs, including the Olympic Shooting Arena designed for the 2012 London Games (American Institute of Architects UK, Excellence in Design).

The recurrent theme in their practice is the unconventional ephemeral notion of architecture, producing designs that are temporary, lightweight, changeable, adaptable and even mobile buildings, in small and larger scales.Their 12-week residency project, titled Permanent Temporary: Realising Change in Australian Cities, aims to question the permanence of architecture and develop prospects of a new or revived mobile understanding of architecture.

Blog by Magma Architects

https://magmaarchitecture.wixsite.com/permanentlytemporary



April – June 2017

Dr. Alberto Pérez-Gómez

In April 2017 we were delighted to welcome distinguished architect Dr. Alberto Pérez-Gómez to the Droga residency.

Alberto holds the position of Saidye Rosner Bronfman Professor of the History of Architecture. Founding Director of the post-professional M.Arch. and Ph.D., History and Theory of Architecture Option, School of Architecture, McGill University, Montréal, Canada.

For his residency, Alberto delivered six lectures nationally, commencing May until late June.

Click here to listen to Alberto's Lecture3: "Architecture as Urban Space: the Place of Participation", delivered at the University of Sydney, May 2017.

Alberto has an extensive teaching background, and has published widely, including his most recent publications:

Attunement: Architectural Meaning after the Crisis of Modern Science, (Cambridge: The MIT Press, 2016).
Timely Meditations, Selected Essays on Architecture 2 volumes, (Montreal: RightAngle International, 2016).
CHORA: Intervals in the Philosophy of Architecture volumes 1-7, series editor, co-edited with Stephen Parcell (Montréal: McGill-Queen's University Press, 1994, 1996, 1999, 2004, 2007, 2011, 2016). [Winner of a 1994 American Association of University Presses design award; vol. 5 selected in 2008 by the Association of American University Presses for public and elementary School libraries.]
Built upon Love: Architectural Longing after Ethics and Aesthetics (Cambridge: The MIT Press, 2006).
Architectural Representation and The Perspective Hinge, co-author with Louise Pelletier, (Cambridge: The MIT Press 1997). [Winner of a 1998 Association of American University Presses design award.]

His numerous awards include the Alice Davies Hitchcock Book Award, 1983, granted by the Society of Architectural Historians for Architecture and the Crisis of Modern Science. The publication was attributed as "the most distinguished work of scholarship in the history of architecture published in North America between Nov. 1, 1981 to Oct. 31, 1983."

Alberto's (short version) CV is attached here.
2016

July – October 2016
Liz Ogbu, Founder and Principal of Studio O, San Franciso, USA
Liz is a designer, urbanist and social innovator, and she also has expertise on disruptive innovation in challenged urban environments. From designing shelters for immigrant day labourers in the U.S. to a water and health social enterprise for low-income Kenyans, she has long worked with communities in need to leverage the power of design to deliver social impact. In addition to being the founder of Studio O, Liz is on faculty at UC Berkeley and Stanford Design School. Some of her honors include Public Interest Design's Top 100, 2014 Aspen Ideas Scholar, and Senior Fellow of the Design Futures Council. She earned her architecture degrees from Wellesley College and Harvard University.
During her residency, Ms Ogbu explored a topic that has been of fundamental interest to her practice: how tactical urbanism can be leveraged as a community development tool with marginalised populations.
Liz Ogbu's past lectures include: TEDx MidAtlantic, Washington, DC | October 25, 2013
Read Liz' final report on her residency HERE.
Clockwise from top: Youth Engagement 2, Cookstove Prototyping, Circus Envelopead, SmartLife Prototype
Testimonial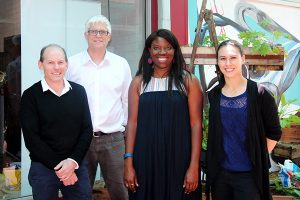 Liz Ogbu's residency program included a public workshop in Alice Springs, facilitated by the Institute's Northern Territory Chapter Manager, Andrew Broffman.
Liz facilitated an engaging workshop on Tactical Community Development based on Human Centred Design (HCD) principles. The workshop was enthusiastically attended by an eclectic group of local architects, public servants, community service providers, and others interested in knowing how best to engage with communities around project planning of all kinds and scales.
HCD tools and techniques have become the benchmark for best practice community consultation, and are especially helpful when working in an intercultural space as we often do in our work in Central Australia.
It was an absolute privilege to have someone of Liz's intellect and reputation visit Alice Springs as part of the Droga program. It demonstrates the commitment and reach of the Droga Foundation in its support of contemporary architectural practice and debate.
Andrew Broffman
Senior Architect/Manager
Tangentyere Design
________________________________________________________________________________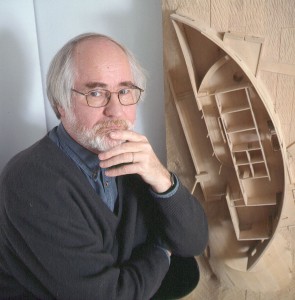 Juhani Pallasmaa (Photo Knut Thyberg)
Juhani Pallasmaa – Architect SAFA, HonFAIA, IntFRIBA, Professor of Architecture Emeritus
Residency March – May, 2016
Renowned Finnish architect and architectural philosopher, Juhani Pallasmaa arrived in Australia in early February to take up his 12 week architect residency.
A former juror for the Pritzker Architecture Prize and jury member for the extension of Sydney Modern, Pallasmaa will present a series of lectures around the country beginning at the Sydney Opera House on 23 February.
Juhani Pallasmaa is highly regarded worldwide for not only his architectural works but his contributions through lectures, seminars, books, exhibitions and philosophical reflections.
Pallasmaa has practised architecture since the early 1960s, establishing his own office in 1983. In addition to architectural design, he has been active in urban, exhibition, product and graphic design.
An Emeritus Professor, he has taught and lectured widely in Europe, North and South America, Australia, Africa and Asia and has published books and numerous essays on the philosophy and critique of architecture and the arts in over thirty languages.
---
2015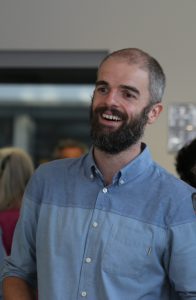 Nick Wood – Photo by Lucio Tagliani
Nick Wood – Re-imagining the awning in the urban experience of Sydney's inner-city districts
Founder and director of How About Studio, London, Nick Wood works internationally on projects ranging from event based installations, to furniture and permanent buildings. He has worked with large cultural institutions and international arts festivals to create a diverse portfolio of high quality interventions.
Nick's project investigated of the role of the awning in heightening the sense of place and collective social experience of the Sydney "street", focusing on an inclusive design process that placed 'making' at its heart.
He created objects and models that explored the role of making in design conversations. He was seen ushering his orange trolley about the streets and engaging passers by in informal discussions abut his research process.
The residency concluded in November with an "on-site celebration" at the campus of University of New South Wales Art & Design.
His final presentation provided an opportunity to exhibit research, share processes and methodologies and survey local responses on a prototype that was built with the help of students, and displayed on the University of New South Wales Paddington campus.
For those who missed the presentation and would like to know more, you can still follow Nick's residency project at theawningproject.tumblr.com. The project will also be captured in a short documentary, filmed by a volunteer young filmmaker, and will soon be available online.
---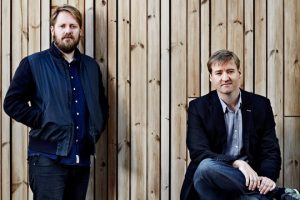 NORD partners: Photographer Sharyn Cairns for Vogue
NORD Architects – Morten Rask Gregersen and Johannes Molander Pedersen
The 2015 Droga residency commenced in February 2015 with the arrival of Morten Rask Gregersen and Johannes Molander Pedersen of NORD Architects, Copenhagen.
NORD had previously visited Sydney in October 2013 as guest speakers and exhibitors at the celebrations for the 40th anniversary of the Sydney Opera House.
Since they founded NORD in 2002 the partners have received wide acclaim for their work as practising architects, urbanists, academics, exhibitors, lecturers and public debaters.
Their work includes public institutions such as the award winning Copenhagen Centre for Health and Cancer, Kids' City Daycare in Copenhagen, the Natural Science Centre in Bejerringbro and a new Maritime Education Centre in Malmoe, Sweden. Their architecture and urban design practice embraces participation and co-creation and is committed to developing new institutions that interact with civil society, public and private sectors and contribute to a future welfare architecture.
Johannes Pedersen and Morten Gregersen shared the residency across a designated 12 week period. Their overall working theme was 'Collective Impact" – how architecture can be a collaborative platform between different stakeholders. Their program included teaching – each presenting a four-day postgraduate intensive student workshop at UTS (Sydney). A major component of the residency was a self-initiated 'research by design' project where they investigated how public institutions, programs and infrastructure could be a possible driver for urban development and the involvement of stakeholders in the Bays Precinct in Sydney.
NORD also presented public, sold out lectures in Sydney, Melbourne and Brisbane.
Project Images (Left to Right):
House of Natural Science (1 & 2)
Health Care Centre for Cancer Patients
House of Natural Science (Interior)

---
2014

Dr Carmen Fiol-Costa
Dr Carmen Fiol-Costa, the inaugural AIA Droga Architect in Residence, arrived in Sydney on 1st March 2014 to take up residency at the Droga apartment for 12 weeks.
Carmen is an architect, urban designer and co-founder of the practice ARRIOLA & FIOL, Barcelona. A prominent academic and architectural theorist, she directed the research for her influential book Barcelona Periferia Cubista and earned a Doctor Europeus from Universitat Politècnica de Catalunya in 2007 with the new book Grids and Diagonals.
Carmen studied at ETSAB and at Columbia University and received the William Kinne Fellowship. Always involved in education, in parallel to running her own practice, she has taught at Harvard, Leuven, IUAV, UNICA, as well as ETSAB.
Carmen also participated in URBAN CIVIC PROJECTS for the City of Liverpool, which provided the framework for her Residency project. In this she also collaborated with the City of Liverpool, NSW Government Architect, and the University of Sydney.
Project Images: Parc Central De Nou Barris Barcelona 2007
Photography courtesy of Beat Marugg
---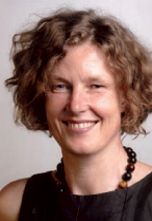 Mechthild Stuhlmacher
While in residence, Rotterdam-based architect Mechthild Stuhlmacher looked to develop case studies around the theme: healing architecture, and the relationship between architecture and landscape.
Mechthild researched the relationship between inside and outside, buildings and context, architecture and landscape, specifically within the context of care-related programs, which may be a key to the design of well working, 'healthy' buildings for care and education-related programs.
Mechthild was guest critic at a series of workshops to postgraduate architecture students at University of New South Wales. Alec Tzannes was also her host practitioner while she in Australia.
While in Australia, she researched widely, meeting architects, and developing a series of case studies which were inspired from conversations, and from Australian examples and projects. Mechthild also collaborated with the Benevolent Society on a project relating (broadly) to early childhood intervention and development. We anticipate that this will result in a case study that will be of significant and enduring value for the community.
Mechthild Stuhlmacher was born in Germany. She studied music and architecture in Germany and the Netherlands, graduated in 1992 and worked at various offices in the Netherlands and the UK from 1992 such as Mecanoo, Zeinstra vd Pol, Maccreanor Lavington and David Chipperfiels architects. From many years she has been a member of the editorial team of the magazine OASE and of the editorial team of the architecture yearbook of Flanders and has since been involved in various other publication projects. She teaches architectural design at Delft University of Technology at the chair Interiors Buildings Cities and has been regularly invited for lectures and workshops in the Netherlands and abroad. Since 2010 she is a member of the Welstandscommissie in Rotterdam, is member of the architect's initiative Agenda Rotterdam and of the recently established architect's platform Rotterdam, organised by the Rotterdam Architecture Institute AIR and the municipality of Rotterdam.