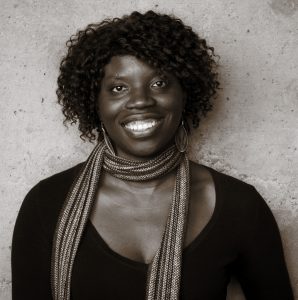 Liz Ogbu, Founder and Principal of Studio O, San Franciso, USA, arrives in Australia to take up her residency in early August, 2016
Liz is a designer, urbanist and social innovator, and she also has expertise on disruptive innovation in challenged urban environments.  From designing shelters for immigrant ay labourers in the U.S. to a water and health social enterprise for low-income Kenyans, she has long worked with communities in need to leverage the power of design to deliver social impact.  In addition to being the founder of Studio O, Liz is on faculty at UC Berkeley and Stanford Design School.  Some of her honors include Public Interest Design's Top 100, 2014 Aspen Ideas Scholar, and Senior Fellow of the Design Futures Council.  She earned her architecture degrees from Wellesley College and Harvard University.
During her residency, Ms Ogbu will explore a topic that has been of fundamental interest to her practice: how tactical urbanism can be leveraged as a community development tool with marginalised populations.
She writes: "Interest in tactical urbanism has surged in recent years.  From street intersections turns into "parks" in San Francisco to pop-up event spaces in Christchurch we find ourselves in a new era of urban development where more formal tactical projects are bringing innovative energy to many cities globally.  Once purely the product of bottom-up initiatives, governments, businesses, non-profits and designers are now embracing this method of lighter, quicker, cheaper development as this generation's great urban innovation.  But as compelling as these projects often are, marginalised populations are often not represented among the creators, users, and beneficiaries".
In this lecture Liz Ogbu will explain how, through her work she has been exploring how a more tactical approach can address longstanding difficulties of community development projects such as the long project cycles and the lack of meaningful interactive engagement.
Liz Ogbu's past lectures include: TEDx MidAtlantic, Washington, DC | October 25, 2013
---
We invite you to attend Liz Ogbu's opening lecture 
When: Thursday 18th August, 6pm
Where: Tusculum, 3 Manning Street, Potts Point
---
Liz Ogbu's Projects
Clockwise from top: Youth Engagement 2, Cookstove Prototyping, Circus Envelopead,  SmartLife Prototype.